Unless things change drastically over the next couple weeks, this New Year's Eve in Philadelphia is going to be the first mostly-real feeling NYE we've had since the start of Covid.
Bars, restaurants and local businesses are celebrating in a big way with creative special events, fancy-pants dinners, and drink specials to help you ring in 2022 properly sloshed.
Then of course, there are the fireworks shows—and by shows (with an ess), I mean we're getting multiple—three of them to be exact—from 6pm on New Year's Eve to 6pm on New Year's Day.
Oh, and did I mention that the Mummer's are back in person this year, too?
Find info about so many things—dinners, brunches, burlesque, DJs, drag bingo, champagne toasts, etc …—happening in Philadelphia on New Year's Eve and New Year's Day below. And remember, when you're out doing any of these things, you're supporting local businesses across the city—not only with your dollars, but with your presence and awareness (and maybe an obligatory Instagram photo or two—don't forget to @ them!)
Have a happy 2022, y'all! 🥂
RELATED: Check out what's happening in Philadelphia this weekend
WHERE TO SEE NEW YEAR'S EVE FIREWORKS IN PHILLY
First and foremost, the fireworks.
Philadelphians celebrating the dawning of 2022 are getting not one, not two, but three (!) fireworks shows: The Rivers Casino New Year's Eve Fireworks on the Waterfront show happens twice: at 6pm for the early-to-bed crowd, and then again at midnight for the late-nighters.
Then, on New Year's Day, January 1, at 6pm, turn your gaze toward the Delaware River again for a third show: Visit Philadelphia New Year's Day Fireworks Spectacular.
Visit Philly has a good guide on where to go to get the best views.
NEW YEAR'S EVE PHILLY PARTIES AND SPECIAL EVENTS
Experience the NYE fireworks from the decks of the historic Battleship New Jersey. Visitors can "tour the battleship, and enjoy live entertainment, food and drinks.
Blue Cross RiverRink Winterfest is throwing two parties—one at 6pm and one at 10pm—both of which will get you there in time for the two Rivers Casino New Year's Eve Fireworks shows.
Franklin Square is hosting a bash and ball drop just for kids from 4 to 9pm. It's a great spot from which to view the first fireworks show over the Delaware, happening at 6pm.
Garage Fishtown "will screen the New Year's Eve ball drop on a big screen, with a DJ and a midnight High Life toast."
Fairmount game café Thirsty Dice is throwing a drag bingo pre-game party, from 5:45 to 9pm, that promises "a night of bingo, prizes and performances from the stunning and entertaining queens Venus Stratton, Lady Geisha Stratton, Aloe Vera Stratton and Emily Valentine." Tickets include one drink and some noshes.
The Twisted Tail is hosting "a Burlesque & Blues Masquerade Party on New Year's Eve with live music, spirited performances and a premium open bar."
NEW YEAR'S EVE AT PHILLY BARS
Le Caveau, the bar above French haunt The Good King Tavern in Bella Vista, will serve "hot dogs and caviar until midnight, grower champagne pouring by-the-glass, and an extensive bottle offering with all shapes, sizes, and colors of bubbles."
McGillin's Olde Ale House brings in 2022 with its signature no-nonsense style: There will be a DJ and "over-the-top decor and party favors." The $10 cover charge with in/out privileges.
Stratus Rooftop Lounge is toasting in the new year with Mr. Hollywood DJ's First Annual NYE Bash, "with top-tier entertainment, celebratory cocktails, premium open bar and delicious hors d'oeuvres."
Vintage Wine Bar "will be offering sparkling wine flights for $32 that include Cava, Cremant, Prosecco, Rose Prosecco, plus a champagne toast at midnight. They will also have several menu additions."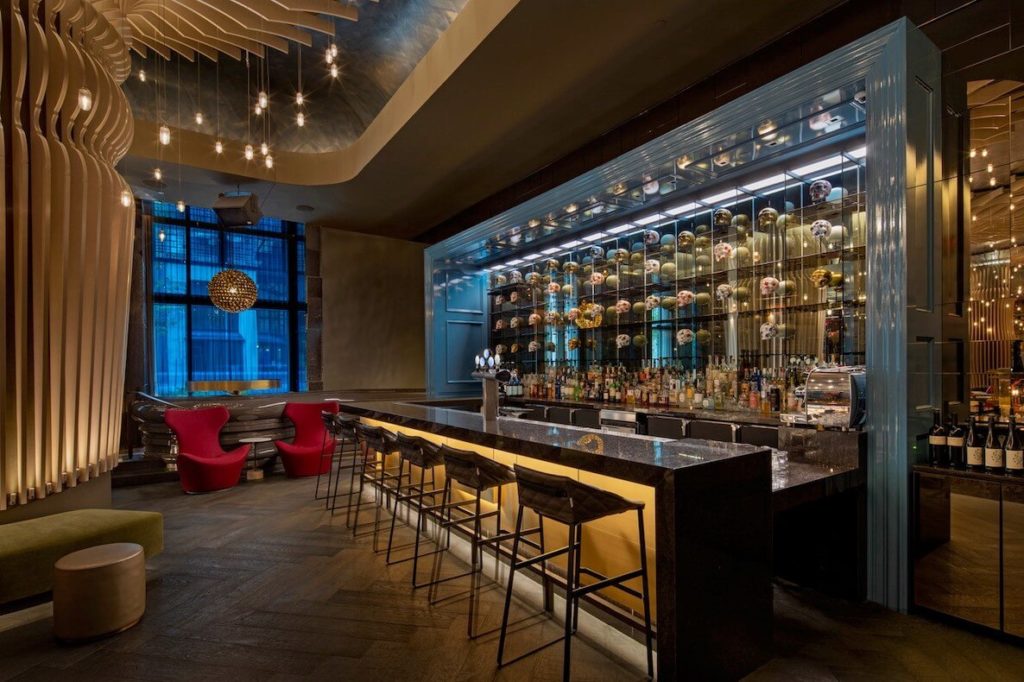 The Living Room at W Philadelphia Hotel "will be a sexy lounge atmosphere with bottle service table packages including a DJ, bottles of spirits, champagne, decadent bites. Tickets are insane, with packages starting at $800.
There will be a NYE dance party at the indoor/outdoor WET Deck at the W Philadelphia Hotel. Look out for "live music for a funky, soul dance party, three hours of premium open bar, passed hors d'oeuvres, and a champagne toast at midnight⁠." Tickets here are a little more manageable, at $250 per guest.
RELATED: Check out what else is happening this winter in Philadelphia
WHERE TO EAT IN PHILLY ON NEW YEAR'S EVE
Midtown Village and Gayborhood mainstays Barbuzzo, Little Nonna's and Bud & Marilyn's "will be offering a $65-per-person prix fixe.
Figo Italian in Northern Liberties hosts Enchanted, kid-friendly event where each table is visited by its "favorite princess." The best part? You get to eat in a heated igloo.
Forsythia "is planning a totally-rad, fun-filled French Disco Dance Party on New Year's Eve with a bevy of small plates, themed cocktails, and dancing"
The Good King Tavern will host their Fancy Frenchie New Year's Eve with the Saint Sylvestre Prix Fixe, which will be offered à la carte at the bar all night along with caviar and Manhattan service.
Wm. Mulherin's Sons is "offering elegant specials to ring in the new year such as golden osetra caviar with dill crème fraiche and crispy potato, along with seared Norwegian langoustines served with lemon and Ligurian olive oil. Perigord truffle supplements will also be available to complement any dish." (also happening New Year's Day)
Oyster House "will be serving an à la carte menu with special additions of oysters and caviar, and there will be a complimentary toast at midnight."
Amalfi Coast-inspired restaurant Positano Coast in Old City hosts its annual New Year's Eve dinner with a seafood-heavy menu of pastas, entrees and raw-bar starters. "The after-dinner party includes "a cash bar, live DJ, party favor and a complimentary midnight toast."
Royal Boucherie "is bringing back burlesque for one-night-only in celebration of New Year's Eve … featuring an array of new and returning French fare, served a la carte, plus exquisite French wines and champagne."
The NYE spread at the ultra stylish Walnut Street Cafe is a three-course meal with a few extra treats that costs $79.
W Hotel Italian restaurant Dolce Italian "is offering the full menu, featuring a variety of Italian dishes, desserts and cocktails."
The Wayward "is offering a decadent, four-course pre-fixe menu" that begins with an oyster trio.
WHERE TO GET TAKEOUT IN PHILLY ON NYE
Square 1682 is bringing back its Surf and Turf Dinner and Takeout. For $45 per person, you get NY strip steak and butter-poached lobster tail, served with black truffle-whipped potatoes and sautéed broccolini. A champagne cocktail or bottle of bubbly is available for an extra charge.
RELATED: More of our favorite places to get takeout in Philadelphia
NEW YEAR'S DAY PHILADELPHIA EVENTS
The Mummer's Parade is back in Philadelphia after a year hiatus due to Covid. The 120-year Philly tradition features more than 10,000 costumed locals strutting down Broad Street, from City Hall to Washington Avenue, putting on over-the-top shows and spectacles along the way. It all happens 9am to 6pm.
For even more elaborate Mummers performances, check out the Fancy Brigade Shows at the Pennsylvania Convention Center from 11:30am to 5pm. This is a ticketed event.
WHERE TO GET BRUNCH IN PHILLY ON NEW YEAR'S DAY
Omelet Du Jour ($13)
Huevos Rancheros ($13)
French Toast ($10)
Mimosas and Bloody Marys ($5)
Breakfast Burrito ($12)
Hangover Helper ($15)
Louisiana Gumbo ($10)
Monster [Bloody] Mary ($10)
Bloody Maria ($10)
Mimosa ($9)
Tavern Omelet ($15)
Chicken and Waffles ($17)
Avocado Toast ($14)
Mimosa Brunch ($22)
Vanilla Vegan Pancakes ($12)
Bananas Foster French Toast ($13)
Shorty Omelet ($14)
Biscuits and Gravy ($14)
Hot Mulled Cider ($12)
Fall Fashioned ($11)
Bubbles, Buckets and Biscuits: Bottle of Cinzano Prosecco, fried jumbo chicken wings,rosemary biscuits, pickles, hot sauce and scratch-made pepper jelly ($44)
Wagyu Beef Tartare ($12)
Whipped Ricotta ($11)
Smoked Salmon Eggs Benedict ($17)
Banana Pancakes ($14)
Plus a Fish and chips pop-up (various prices)
Short Rib Hash ($18)
Shrimp and Grits ($24)
Crab Omelet ($19)
Lobster and Avocado Eggs Benedict ($24)
Bellini ($13),
Bloody Mary ($14)
Farmermosa ($14)
Header photo of Blue Cross RiverRink Winterfest by Maria Young