Cherelle Parker, a former two-term member of Philadelphia City Council representing the 9th District, is the new Mayor-elect of Philadelphia. In the general election on November 7, 2023, Parker, a Democrat, received more votes than Republican candidate David Oh to become the city's 100th mayor.
Parker is the first woman to win the city's top job.
She will take over the office Jim Kenney occupied for eight years at 00:00 hours on January 1, 2024. (Her inauguration takes place January 2, however, as to not interfere with the Mummers Parade.)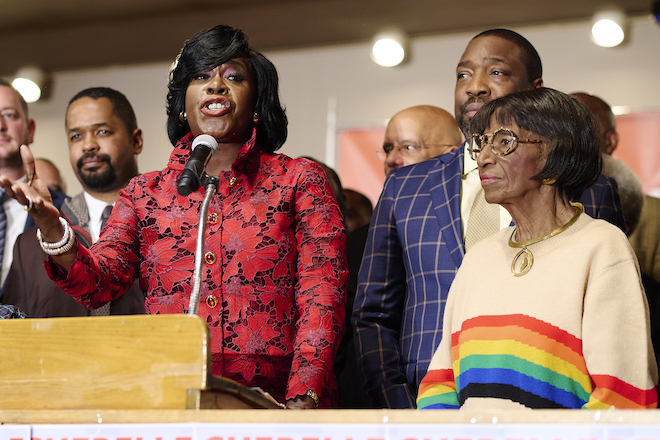 Cherelle Parker's pre-mayoral career
At age 17, Parker won a high school oration contest. The prize: An internship with Philadelphia City Councilwoman Marian B. Tasco, whom she'd go on to work for for around 15 years (with a short break to teach high school English teacher in Pleasantville, NJ), from about 1995 to 2002.
In 2005, Parker became the youngest African American woman elected to the Pennsylvania House of Representatives. There, she represented Northwest Philadelphia for 10 years and chaired the Philadelphia House Delegation. In the House, she worked to increase funding to Philadelphia public schools (through a statewide tax on cigarettes), cap increases on property taxes, fight payday lenders, and strengthen the cases of victims of sexual violence.
In 2015, Marian Tasco retired from Council, and Philadelphia's Democratic City Committee chose Parker as her replacement. Parker took office as the 9th District Councilmember in 2016, representing the Northwest and Northeast neighborhoods of Mount Airy, West Oak Lane, East Oak Lane, Olney, Lawncrest, Lawndale, Burholme and Oxford Circle.
On Council, Parker served as chair of the Labor and Civil Service Committee and vice chair of the Committee on Commerce and Economic Development. She became known for championing pathways to home improvements, fighting homeowner-impacting gentrification, opposing Mayor Kenney's soda tax, and increasing community policing. In 2020, she became Council's Majority Leader.
She was also the first woman to chair the board of the Delaware River Port Authority.
Cherelle Parker, the personal
Parker grew up with her grandparents in Mount Airy. Her mother, who had her as a teen, died when Parker was 11. Parker was a cheerleader at Parkway Central High School and that oration contest win also earned her a trip to Senegal and Morocco.
She graduated with a B.S. from Lincoln University and a Master of Public Administration from Penn.
In 2011, then-state Rep. Parker was arrested for driving drunk in her state-issued car — the wrong way on one-way street in Germantown. She later testified that she was never on that street and disputed the officers' account of the arrest. In 2013, she was convicted of the DUI and spent three days in jail.
Parker is the mother of Langston Mullins, whom she named after her favorite poet, Langston Hughes. Her ex, Langston's father, is Ben Mullins, a leader in the International Brotherhood of Electrical Workers. Langston was 10 years old when Parker won the Democratic primary in May 2023, and Parker has jokingly referred to herself as an "OAM," or old-ass mom, because she became a parent at age 40. The family lives in West Oak Lane.
Democratic candidate for mayor
Parker has described her mission in government as "closing the gap between the haves and the have nots." She says her priorities as mayor would be safety, jobs, and city services. After resigning from her post on Council, she registered as a lobbyist in Harrisburg.
During her campaign, Parker promised to hire 300 more police officers, including community officers, and restore "constitutional" stop-and-frisk. She also put forth the idea of making school year-round, and, like the other candidates, vowed to support small businesses along neighborhood corridors and increase affordable housing.

More on Cherelle Parker on City Council
SHE PARTNERED WITH COMMUNITY COLLEGE OF PHILADELPHIA to establish the small business training program, Power Up Your Business.
SHE IS A FORMER EDUCATOR WHO SUPPORTS public school workforce development programs, the addition of nontraditional teachers and year-long school. She believes solid education will reduce crime.
PARKER HAS CHAMPIONED HOME FIXES TO HELP STABILIZE NEIGHBORHOODS. She and Council President Darrell Clarke developed Restore, Repair, Renew to help homeowners access low-interest home improvement loans. She is also credited with increasing the Realty Transfer Tax by .1 percent in order to borrow $100 in bonds to eliminate backlog within income-based home repair programs.
SHE SOUGHT TO PROTECT NEIGHBORHOODS FROM EFFECTS OF DEVELOPMENT by creating a bill that requires them to complete a Project Information Form to let neighbors know about the environmental and other impacts of their proposed projects in communities.
SHE CHAMPIONED THE NEIGHBORHOOD SAFTEY AND COMMUNITY POLICING PLAN, which calls for adding 300 beat and bike police officers to the force, tackling quality of life issues, and increasing community engagement. She also backed up Council President Clarke's call to reinstate stop-and-frisk, legally.
SHE CALLED OUT KENNEY DIRECTLY AFTER HIS JULY 4 COMMENTS about being tired of gun violence. Later, she publicly recounted telling him that, "If you can feel this way, imagine how Philadelphians who don't have the ability to check out feel on a daily basis." She also referred to Kenney's statement as "asinine."
SHE HAS BEEN VOCAL ABOUT THE SODA TAX'S disproportionate impact on communities of color.

Notable endorsements for Cherelle Parker
Black Clergy of Philadelphia and Vicinity, Inc., District Council 33 Locals 427 and 403, Eastern Atlantic States Council of Carpenters, IBEW Local 98, Philadelphia Building Trades Council, Service Employees International Union (SEIU) 32BJ
City Council President Darrell Clarke, former City Councilmembers Derek Green and Maria Quiñones Sánchez, State Senators Vincent Hughes, Sharif Street and Tina Tartaglione.
Full list of endorsements here.

Cherelle Parker in The Philadelphia Citizen

Videos featuring Cherelle Parker

More ways to learn about Cherelle Parker
Visit Parker's campaign website, or follow her on Instagram, Facebook and Twitter.
Sign up for the Citizen newsletter to keep track of the latest on mayoral candidates and ways you can help make Philadelphia better for all of us.
---
Every Voice, Every Vote is a collaborative project managed by The Lenfest Institute for Journalism. Lead support is provided by the William Penn Foundation with additional funding from The Lenfest Institute, the Wyncote Foundation, and the John S. and James L. Knight Foundation, among others. To learn more about the project and view a full list of supporters, visit www.everyvoice-everyvote.org. Editorial content is created independently of the project's donors.

MORE MAYORAL RACE COVERAGE FROM THE CITIZEN
Public Safety
Collaboration

Out of School Programs
The Environment
Trash and Litter
Transit
Main photo: Mayor-elect Cherelle Parker celebrates at the Sheet Metal Workers Union. Photo by Albert Yee.