Jason Kelce is many things.
Star center for our (undefeated!) Philadelphia Eagles. Greatest orator of our generation. Education columnist for The Philadelphia Citizen. Best-costumed dad of Halloween 2022. 
As one of the most beloved Philadelphia figures, the man could successfully use his platform to do anything. (Who wouldn't, say, go to a Jason Kelce Bar, pound Kelce Beer, sign up for a Kelce Cheese-of-the-Month Club?) But, superstar that he is, the five-time NFL Pro Bowler is once again using his power for good, with the launch this weekend of Underdog Apparel, through his (Be)Philly Foundation — a super-dope line of graphic t-shirts, totes, hats, and fanny packs whose proceeds will all be going to benefit the nonprofit Coded By Kids and the newly-combined Philadelphia Futures & Steppingstone Scholars.
After walloping the Texans 29-17 (huzzah!) on Thursday night and coming home on three hours of sleep, Kelce sat down for a Zoom interview to talk about what Underdog Apparel and the (Be)Philly Foundation mean to him, and what he hopes the initiatives can do to move Philly forward.
Jess Blatt Press: You could launch anything in this city and it would be successful — why did you choose to do something with a community service focus?
Jason Kelce: It's really been a goal of mine to do something community-based for a while. I've always had ideas, but a large part of finally launching this has been, quite frankly, just coming in contact with the right people who have been able to help me see it through. In particular [artist] Hannah Westerman of Avenue West and [entrepreneur] John Cardone of Being Design. 
As I've gotten older in my career and have looked back, I've been really blessed to have a lot of support and a lot of people who have believed in me — from my family, to coaches, to men and women I looked up to who have dedicated their time, effort, and knowledge to teach me. It's helped me become a really, really good athlete and be successful in the world of football. And I think we all know that within the Philadelphia public school system, there are a lot of kids who have potential but are not getting that kind of support. So it was really important to me to try and find ways to do that for other kids — to find ways to not just lend my time, but try and create energy and momentum to help kids reach their potential.
A lot of people think Oh, I'm just one person — what can I really do? Can you talk about your belief that one person really can make a difference?
It feels like at every meaningful moment in my life where I've had either self-doubt creep in or been unsure of my own abilities, I've had somebody there who's been able to push me through and believed in me. There have been multiple moments when that's occurred. And you never know when that's going to be you, being there for somebody. You never know when you are going to say something or you're going to be able to do something that's going to be a pivotal moment for somebody's life.
Looking back, there are so many moments where I'm like, Man, if that person wouldn't have been there, I don't know if I would still be playing football. I don't know if I'd have gone to Cincinnati [to play college football], which culminated in meeting a whole other set of people. It's really crazy when I look back and I realize how much each of these people have played incredible parts in helping me realize my dreams.
One hundred percent of proceeds from Underdog Apparel will benefit two nonprofit organizations in Philly: Coded by Kids, and Philadelphia Futures & Steppingstone Scholars. How did you and your team pick these in particular?
We met with a number of nonprofits and, honestly, the meetings with Sean Vereen at Philadelphia Futures & Steppingstone Scholars, and then Sylvester Mobley at Coded By Kids, just aligned really, really well with our mission. Both organizations are focused on helping kids reach their maximum potential, helping kids make a difference in achieving upward mobility, reaching their educational goals, and reaching their career goals.
Both organizations take a really holistic approach. Education is one aspect and it's very important; you can't deny how important it is to go to college and to get a good education. But that's only one piece. And I think that both of those groups are not just focused on that but are also focused on what happens after that. What happens down the road. And that was really important for us.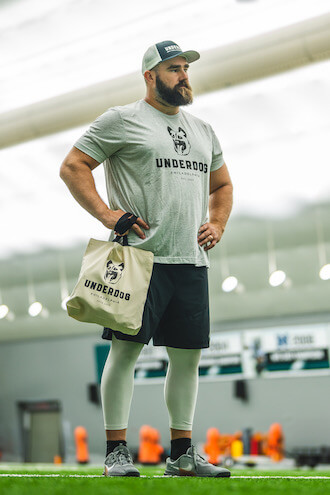 Almost every successful endeavor in Philly comes down to collaboration — it's almost always the key to solving problems in the city, in the world, wherever. And at its core, collaboration is just a corporate word for teamwork — how has teamwork fed into making this initiative come to life?
I think that's really kind of the motto of my life. I'm a very good idea person, but I'm not a great get-stuff-done person. Like, I had this idea to do a Christmas album, I thought it would be fun. But it was only through getting together with Connor Barwin and Charlie Hall and actual musicians that it actually happened, right?
I've been playing sports my whole life and it's very apparent when you play a team game for so long how each person kind of does their role and fits in. When you're on a good team, you embrace people for what they're good at and enable them to shine. And I know I'm very good in certain areas but not great in other areas. I'm knowledgeable in some areas and not so knowledgeable in other areas. I think that trying to surround yourself with people who you know are good where you're not, and really letting them run with their strengths, I think that's when the best collaboration really happens.
I'm not someone who likes micromanaging. You know, there are certain coaching styles — I compare everything to sports because it's all I've ever done — and the ones that I really love are like Andy Reid, Doug Pederson, and Nick Sirianni's, who have very similar ways of embracing people for who they are and allowing them to shine as individuals within the construct of the team. It just makes you feel more empowered as an individual, and it ultimately ends up being a better product.
Speaking of influences that motivate you to be better: Has becoming a dad shaped the work you're doing and plan to do as you think about the future?
One thousand percent. I've always been passionate about kids, I've always been passionate about education. But the moment you have a child, you think about all these things that much more. And you put a lot more deliberate thought into What am I going to try and teach my children? What are the basic values I'm going to instill in them? How am I going to try and teach them in a way that they're gonna be able to be successful in life and happy and secure, self- confident? You think about it so much more. And it causes you to reflect on your own life, and it causes you to look at everything under a different lens, without question.
Hm, does that mean we'll see a kids line of Underdog Apparel in the future? 
That is definitely in the works. That was one of the first things people were emailing about. We need kids' sizes and kids' clothing! They're coming.
The internet has loved your line about how you're not here to "play dress-up," you're here to play football, so it's ironic that you're launching a fashion line. Is this Jason Kelce's version of couture? 
Yeah, there's a reason we're doing graphic t-shirts and fanny packs and not some more upscale items! We wanted this to be something that somebody could wear every day — going to a restaurant or a bar or whatever. I used to put much less thought into what I wear — I still kind of don't put that much thought into it — but what you wear, ultimately, it's a way of showing what your values are and what you care about, right?
In launching this endeavor, one of the reasons we landed on merchandise and clothing in particular is that we want this to be something that people can be proud of. We want this to be something the city can be proud of. There's a reason I didn't make this "The Jason Kelce Foundation." I want this to really be something that is a Philadelphia-focused endeavor. And something that Philadelphia can be happy about and proud of and that can really make a difference in kids' lives.
Well, you have probably done more to instill Philly pride in citizens than just about anyone else. So can you speak to what seems to be the heart of your mission — how if Philly would work together, do a little bit every day, we can be just as strong in our education, in minimizing violence and eliminating poverty and addressing problems that plague our city, as we are on our sports fields?
I was not born here, but coming to Philadelphia, it is overwhelming the amount of pride and energy that people have for our city. It's something that is instantly apparent to anybody who comes to the city. If that can be pushed in a direction that's cooperative, that everyone is working towards, there's so much potential within the city. 
I think in some ways the idea of the underdog has a negative connotation, but you can't be an underdog without believing in yourself and without having the confidence that you can win and you can achieve. And I think that if there's anything that sums up Philadelphia, that's a pretty damn good one. We don't listen to what anybody else tells us we are, we're just gonna go out and be who we are. Hopefully this foundation and this movement and this clothing line become something that unifies people to make the city better and help all kids reach their potential so that the city becomes a better place for everyone.

MORE PHILLY SPORTS WINS FROM THE CITIZEN
Eagles Dallas Goedert, Avonte Maddox, Jason Kelce, Jordan Mailata, Darius "Big Play" Slay, Lance Dickerson and Lane Johnson wear Underdog Apparel at the NovaCare Complex.