I'm from Philly, but my first in-person taste of local-turned-worldwide fashion brand Mea Culpa took place in the Bowery Showroom at a pop-up that started at 1pm and ended at 7pm — during which time there wasn't a moment where the room wasn't packed. There were two major reasons for the crowd.
One: the in-person sale of MC's limited-edition signature beanies, embroidered socks, and cropped women's tees. Two: the presence of the one-and-only, security-guarded La La Anthony, celebrity TV host-turned-actor-influencer (and former spouse of Carmelo Anthony), who was there not just to shake hips and take selfies with fans, but also to work the register and promote her efforts to support recently incarcerated and returning citizens.
Spinning the cut was Brooklyn native @dickbyair, and Philly's finest @itsdjdj. And if you needed your nails done, @ourienailedit was set up and ready to go. Cherry Bomb Studio founder and CEO Ro Bataille was also in the building, installing stylish Mea Culpa tooth gems. The customers — Philly and New York creatives, by all appearances — were there for it, bathing in the good music and good vibes. (I'm still on a high from the six-hour event, and don't even get me started about the after party.)
It was a far cry from where the streetwear brand's founders, three uptown (North and Northwest) Philly men, started out, just three years earlier. Today, Mea Culpa is proudly repping Philadelphia at global pop-ups and on major influencers.
Mea Culpa was founded in 2020, when three Philly guys "had a vision, and brought it to life," says brand rep Paris Velour, "and now we're taking over the world."
How Mea Culpa started
Mea Culpa in Latin translates to, my fault. Sam Hailu, head of MC marketing, was there around the start of the brand. He's also the only one of the three people who were there at the beginning who's comfortable with sharing his identity.
Hailu says the name represents accountability, and growth. "It means acknowledgement of one's errors, so when you mess up, just own up to your mistakes, that's all," he says. My fault is also a common phrase we say in Philly; maybe we should start saying "mea culpa" instead.
"We believe in self acknowledgment and honoring your emotions is an important aspect of self-care and how to express yourself better, being okay with how you feel letting go of any judgment and expressing yourself as you are. We also believe in self expression simply through style," adds Velour.
Hailu says the founder behind the brand's designs grew up in a single-parent household, where money was always tight and he had to fend for himself. (I met the founder briefly; although he struck me as publicity-shy, he later insisted he's not.)
In an email, he explained Mea Culpa's genesis this way, "My friend painted on shoes and canvas and had his own brand … After spending hours in the basement with him, working and printing tee shirts, I saw my friend quit on his passion." That's when "I decided to start my own brand."
Kim Kardashian, along with her sister Kourtney, posted up on da 'gram in Mea Culpa x La La beanies.
The anonymous founder, another friend from the neighborhood and Hailu sold the wares in true street style — out of the trunks of their cars. The whole process felt "natural, to be honest," says Hailu. Then as now, the support the trio gave each kept them feeling powerful — and strengthened their passion.
During Covid, when violence in Philly was at an all time high — and creativity seemed like a second thought — they doubled down. They used their time in quarantine to design, organize, and network online. Before long, their efforts paid off.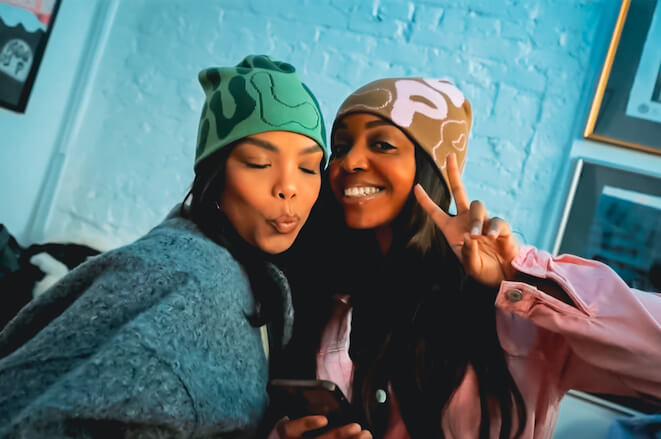 Once they built a clientele, instead of looking for a space to rent, they put all their efforts into the realm where most 20-somethings like them thrive: Social media. Instagram was and is their primary social platform. In three years, the brand has reached 121k followers.
Where they are now
These days, it's almost impossible not to find Mea Culpa photoshoots and celebrity endorsement content on TikTok, thanks to its organic, star-studded following. James Harden wears the beanie well. Recently, rapper and model Rico Nasty was spotted sporting their 'MC' cropped tee. It was through the brand's active social media that La La first noticed them. Her good friend, Kim Kardashian, along with her sister Kourtney, posted up on da 'gram in Mea Culpa x La La beanies.
Although they declined to report sales figures, they said their staff has grown to 15 — and the speed at which every MC drop sells out is evidence enough of viral success.
Mea Culpa's form-fitting cropped Ts, neon bikinis, and sweatsuits sell out within minutes of appearing online. Their best-known product — their beanie, intarsia'd with their name / logo is available in 31 colorways (all sold out at publication time) — has inspired the greatest and most vexing compliment any fashion brand can receive: imitation in the form of easy-to-spy knock-offs.
Hailu and Velour say the beanie is all about versatility and comfort. To them, this means pairing the knit cap with puffer jackets, but also dresses, cargo pants, swimsuits … Everything they make intends to be form-fitting, on-point, and comfortable for all body shapes and types.
(FYI: They have recently done a summer restock.)
The after party
Photographers, models and Philly's dopest creatives served iconic looks and street fashion galore at the Mea Culpa x La La afterparty at Hotel Chantelle. By the time the doors opened at 10pm, the line to get in stretched around the corner. The first and second floors were packed.
The team at Mea Culpa says it's essential to their brand that they never forget where they come from, three young Philly bouls/bulls (definition, along with other Philly slang, courtesy of Leslie Odom Jr, here) starting from the bottom of uptown.
The collab with La La is the latest way they're giving back: A portion of collab beanie sales — they cost $72 apiece and sell out within minutes, or, if you're lucky, days, post restock — go to La La's newly launched nonprofit. THREESIXTY mentors inmates at Rikers Island, specifically in the Robert N. Davoren or RNDC complex, which holds people waiting for their court arraignments. The nonprofit provides inmates with one-on-one guidance and love — and shepherds newly returning citizens into jobs, counseling, workforce training, whatever they need.
Velour also lets slip plans for community engagement in Philly this summer. "We definitely want to do something for the kids. There's not really a lot of activities for the youth of Philly," she says, adding that their efforts will revolve around art and creativity.
The journey for Mea Culpa continues. They hit the UK for their first international pop-up shop with EmotionalTherapy in London in March. "We're on tour, and I can't say for sure but, just know we're coming to another big city," Hailu says. He also teases some info for their upcoming collections, "People think it's all we got, but we got a whole lotta new stuff coming. We're gonna take it back a little bit — that's all I can say."
View this post on Instagram
---
Correction: A previous version of this post misstated that Mea Culpa's collab with La La Anthony included mohair beanies. It also misstated that the brand founder is the artist who inspired Mea Culpa designs; he is not. Writer Abigail Chang spoke with members of the Mea Culpa team for this post.

SHOP LOCAL, SHOP SMALL, SHOP SUSTAINABLE
A fan takes a selfie with La La Anthony at Mea Culpa's Bowery Showroom pop-up. Photo by @Flaavisiuals.