Philadelphians, like most Americans, love coffee. Drive Research reports that on average, 3 in 4 Americans drink coffee daily. In other words America does run on … coffee. (And sure, Philly loves our Dunkin, but we gotta say, locals do it better.)
Here are seven coffee shops that don't just pour joe or serve breakfast sandwiches and flaky pastry. They also do great work in their cafes and in their communities. Some employ and train up youth. Others support seniors. All serve as safe spaces for community conversation and civic engagement, roasting sustainably grown beans and taking names.
So, now that the days are shorter and colder, no matter if you're pro- or anti-pumpkin spice latte, or if you like it extra hot or iced all day, we invite you to explore these Philly gems, where you can refuel — and feel really good about it.
3400 J Street, G1, open daily
Kensington is home to Philly's only Vietnamese-owned specialty coffee roastery. Raymond John, CEO of 12 Plus, a nonprofit that runs individual school-affiliated centers that guide high school seniors through graduation and into post-secondary opportunities, and Thu Pham, college and career advisor-turned-roaster, founded the bright, loungey spot in 2021.
Honoring their roots, John and Pham offer brilliant roasts from Southeast and East Asia, including beans harvested in the highlands of Lam Dong, 1,400 meters above sea level and Thai beans from Pa Miang, whose 1,500 meters above sea level results in a "clean, cocoa nutty" flavor. This direct sourcing has provided jobs for people living halfway across the world; the cafe itself offers paid work experience to 12 Plus students seeking both compensation and professional development. #YayForStudentJobSecurity!
Pham wants customers to enjoy Vietnamese coffee, not just for the flavor, but also for the experience. "Di uống cà phê," translates to "Let's get coffee," an everyday cultural event that encompasses a culture of coffee bringing community, conversation, and winding down.
What to have: Condensed milky-sweet Vietnamese coffee, of course, with pandan ché parfait
320 Walnut Street, open daily
Thomas Steinborn and David Wong's Old City cafe is intentionally welcoming, purposefully inclusive, stylishly delicious, and also blissfully wifi-less. Here, real, in-person conversation is encouraged. Frieda, named after Steinborn's grandmother, has a distinctive mission: Bridge the generational gap by fostering intergenerational conversations.
You'll find employees of all ages, including older folks who know their way around an espresso machine and make the sweetest of pastries and jams, all while earning livable wages and feeling, well, valued. This is intentional too: Older adults are often underrepresented in creative and restaurant spaces. It's the opposite here, which also makes Freida the perfect spot to bring your favorite elder for some morning coffee and poached eggs, made by Wong, a Paris-trained chef.
Try their croissants — and don't say I didn't put you on.
Rally, Bella Vista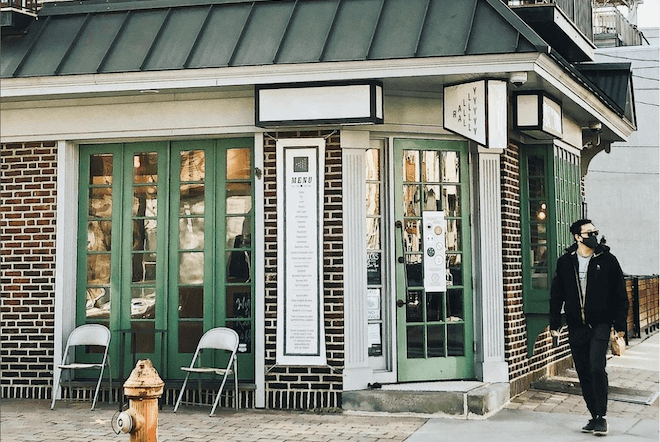 701 S. 7th Street, open daily
Staying true to their name, this serene, stylish Bella Vista coffee shop curates community among locals and Philly transplants alike. Rally invites food vendors like FreelancePizza and Jezabel's for pop-up events and hosts community organizers like AsianAmericanUnited to facilitate conversations on issues that matter to Philadelphians.
When Rally isn't serving carefully-crafted drinks — iced honey lavender lattes, black sesame and vanilla cappuccino — they're collaborating with Leave Philly Alone, working to build support for and grow small businesses. At Rally, it's all about togetherness and opportunity. Also, they outsource the most delicious baked goods from Kouklet Brazilian BakeHouse, FlakyAf Bakery, and Sir's Company.
Rival Bros, Fitler Square and East Passyunk
2400 Lombard Street and 1100 Tasker Street, open daily
Longtime friends Johnathan Adams and chef Damien Pileggi founded Rival Bros as a coffee cart in 2011; they wanted to locally roast and sell sustainably sourced coffee. More than a decade later, the bros have not only two of my favorite cafes — in Fitler Square and Passyunk — and the swanky Rittenhouse coffee / cocktail bar Enswell, but also pre-packaged ready-to-drink shelf stable coffee.
Adams and Pileggi are known for being nice guys and great citizens. Their Champion Blend Initiative donates a portion of the blend's proceeds to, in their words, "promote and support issues important to marginalized populations within our city." They've currently teamed up with Philadelphia Black Giving Circle, and Gemma Services (which provided me with my first gun-violence focused therapy resource in 2020).
Favorite drink: The Southpaw: vanilla oat milk iced coffee, rich but not too heavy.
Saxbys, Drexel, University City
65 N. 34th Street, open daily
There are approximately 38,400 coffee shops in the U.S., and 900 of them are Saxbys. One of Drexel's Saxbys, however, was the first to test out and succeed at CEO Nick Bayer's concept of paid experiential learning. The university cafes are 100 percent student-run: Barista, cleanup crew, shift manager, social media manager and CEO are all undergrads, responsible for all operations. What started as an extension of Drexel's co-op program has spread to campuses across the country.
Drexel's Saxbys also offers compostable coffee grounds to customers, integrates recyclable bags and brew boxes and repurposed furniture into the cafe, and works closely with other on-campus organizations like Campus Activities Board (CAB).
Have: A seasonal latte: pumpkin spice, peppermint mocha, whatever floats your boat.
3859 Lancaster Avenue, open weekdays
Students from and alumni of YouthBuildPHL charter school run this Powelton Village spot. Their goal? Cultivate an environment of support and love while building work experience. Like the North Philly school itself, the cafe is rooted in "equity, visibility and community," and provides practical job training —in management, customer service, beverage prep – and pays its student-workers, who are ages 17 to 20. Workers are also encouraged to craft their own beverages, name them, and list them on the menu.
Open to customers weekdays only, SGC converts their space into a classroom for students involved in YouthBuildPHL's Business Administration Scholars program (B.A.S) during off hours.
Their specialty? Italian expressos that are sustainable sourced and locally roasted.
2831 W. Girard Avenue, open Tuesday through Sunday
Nearly 10 years ago, Lisa Miccoils opened a nonprofit Brewery cafe to help Philadelphians who'd aged out of the foster care system. Operates through the good graces of donations and grants, The Monkey & The Elephant doesn't just employ people who've been in foster care. It's a source of financial, physical and emotional security and a safe practical skills educational space, where employees learn to budget, manage conflicts, and even apartment hunt.
(Read more here and here.)
Every purchase of fairly-priced coffee supports the possibility of a better future for Philadelphians who are otherwise at most risk for falling through the cracks.
Have a panini (breakfast, lunch, or both) In the back garden courtyard.

MORE WAYS TO PUT YOUR MONEY WHERE YOUR HEART IS
Philly coffee shop Stomping Grounds